Wednesday, October 31, 2007
Happy Halloween everybody!





I'm a devil girl today :D


Devilish Bubble Dress
$96
For today's edition of Cute Things, I bring you some cute home accents. I was never THAT into home decorations and stuff before, but now that we are waiting for our new house to be finished (in March, ya!), I can't help but look at fun home decor ideas. My guy says wait till we are finally moved in and you'll be like every other woman fussing over the decorations. He's probably right.


Smoochers Chair
$119


Sterling Cuckoo Clock
$18


Finnish Chandelier
$39


Tulip Lights
$44


Miss Modern Chandelier
$36


Bird Magnets
$12


Music Note Pillow
$23


Piano Key Rug
$36
Posted by Moi at 9:00 AM 0 comments  

Labels: Cute things, Home Decor
Tuesday, October 30, 2007

This is quite a nice gift from e.l.f. cosmetics
- shop e.l.f products and get 2 free Brightening Eye Liner Pencils. Use coupon code ETCENAW!




And e.l.f's got a new line of bath & body products that include bath jel, hand soap, hand cream, body lotion and body butter. All cost only $4! There are 5 flavors to choose from, peony petal, cucumber melon, lavender blossom, pineapple mango, vanilla coconut. They all look so yummy, at $4 a pop, I don't have to choose :D


Posted by Moi at 7:32 PM 0 comments  

Labels: Coupon Codes, Makeup, Skincare
Juicy Couture Fur Earmuffs
($150). Holy huge earmuffs, you say? For me, earmuffs can never be too big especially now the temperature has been dropping dramatically this week. They make you look super adorable and your ears will never be cold again!
Posted by Moi at 9:26 AM 0 comments  

Labels: Accessories, Cute things
It was raining so much the past weekend I wished I still had my old bright yellow red boots that I wore a very very long time ago. Rain boots are just so cute, no wonder children love wearing them and jumping in puddles. I love that too! However, I don't walk to school anymore in the morning (sadly). The only walking I do is from house to car to office, so they don't have to a serious investment but rather a fun accessory for me. I like the bright solid colors as well as the plaid patterns.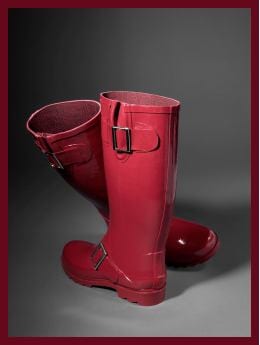 Men: Gap (PRODUCT) RED™ wellies - cinnabar red

$60


Tretorn - Skerry Vinter W (White/Brown) - Women's
$63.95


Sperry Top-Sider Pelican Lug - Women's
$59.95


Naturalizer Finola - Women's
$59.95


Mystical Rain Boot
$29.99


Alloy's RAIN BOOT
$29.50


CAPELLI NEW YORK ERRATIC DOTS rain boots $29.98


CAPELLI NEW YORK PLAID rain boots $29.98
Posted by Moi at 9:16 AM 0 comments  

Labels: boots
Monday, October 29, 2007
Literally 112 colors in 1 palette in this incredible limited edition Sephora Brand Blockbuster Palette
for only $48! This sleek, mirrored, palette is loaded with 64 eyeshadows (both powder and cream!), 32 lip colors, seven cheek colors, one translucent shimmer powder, four double-ended shadow applicators, two blush brushes, and two lip brushes. I know, who really needs this many colors?! But it's just so much fun to play with them, I'd be like a kid in a candy store. It's all about experimenting with colors that you normally wouldn't buy. And it will definitely make a great holiday gift! I don't know any girl who wouldn't like this.
Posted by Moi at 8:19 PM 0 comments  

Labels: Makeup
Snatch this beautiful 6 Carat Ruby & Sterling Silver Bracelet
$100 $18.99 using the coupon code AFRUBY at Netaya.com
!! I love ruby. I emailed this to my guy. I think I'm doing him a favor by getting me a nice present and saving him a bundle. And it comes in a pretty gift box.

Posted by Moi at 9:15 AM 0 comments  

Labels: Accessories, Coupon Codes, Sales/Deals