I have so many people to buy gifts but I can't splurge on everybody this year especially after we bought a house and everything. Being on a budget is a good thing. As many of you savvy shoppers know that you don't have to spend a lot to get great gifts. Here are just some of the things that are no more than $20 but are just kick-ass.


Mago Turtleneck Kangaroo-Pocket Long Tee $15. I would so wear this myself seeing as how I love sweatshirt dresses these days. It's funny that I used to turn my nose up at sweatshirts but now I just love them in the dress form.


Color Theme 2 Colored Turtleneck Empire Dress $18. Love that layered look? This dress has done it for you! Clever :)


Women's Shawl-Collar Pullovers - Green Spire
$29.50 $15. That's also 50% off! It looks even better on, really. I love this refreshing green color the best.


Tunic Top by Rampage
$49.00 $19.99, this knitted tunic looks pretty light-weight. It can be an alternative to a cardigan layered over a turtle neck shirt.


Emilio Cavallini Back Seam Hold Ups $15.75. Love the contrasting pointed heels and back seams on opaque knee-highs instead of sheer stockings, which is more modern and sexy. They will surely boost any girl's confidence.


Wild Vida low heel pointy toe $41.25 $10.97. My friends disagree with me on this, they are wary of receiving or giving shoes because they worry about the fit. It's true there's a risk, but I personally love giving shoes, especially the styles that that person normally wouldn't get. And of course I make sure I get the right size. These mary jane flats are totally adorable.


Highest Heel Collection stiletto heel pump $44.25 $13.97. Nobody would object to the class pump. I can never have too many myself.


Jurlique OPC Tea Tree Body Exfoliating Gel $18. Gotta keep up with the exfoliation in the winter when the skin loves to dull. This one is loaded with herbal antioxidants and organic plant extracts to enrich your skin while sloughing the dead skin cells.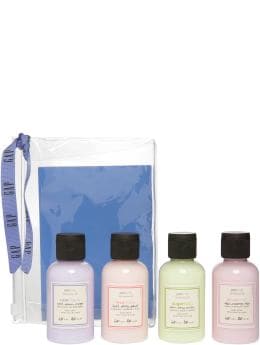 GapBody body lotion set - rain check, love shack, moon walk & sugar snap
$15. Strangely I'm very fond of Gap's lotions and body sprays. Every time I walk into a Gap, I stop to smell them. The scents are always very light and non-offending, which is a big plus in my book because I can't stand most of the fragrances, which tend to choke me. These are very nice. I'm sure whoever you give this to will like it too.


Bird Magnets
set of four, $12.


FOX St. Fox Stocking - Black
$17.99, who knew xmas stockings can be this edgy?