What is better than vintage Chanel?! Ladies, whether your wallet allows or not, you simply must click over to Tribute to Chanel Vintage Sale on YOOX.COM
(ends Dec 15)! Your love for fashion and style will not allow it if you don't. Treat yourself a comprehensive collection of vintage Chanel. YOOX.COM launches the sequel to their Tribute to Chanel vintage sale, which, when it launched two weeks ago, sold out in just 24 hours. The online pieces show off house signatures: Quilted bags, pearls of every measure, camellia-strewn belts and necklaces, and tweeds are all in the mix. Holly Brubach, former style editor of the New York Times, helped curate the selection and has included some collectibles from her personal archive. Pieces are selling out faster than I can type this post. Check now!!

YOOX.COM takes a trip through time with Coco Chanel and her Maison, whose style remains as influential and cherished as ever. For months, the fashion experts at YOOX.COM have been selecting unforgettable pieces from around the world: from Paris to Milan to New York where Holly Brubach the former Style Editor of the New York Times and celebrated author of fashion books handed over various pieces from her private collection. An extraordinary selection of precious items will be featured including hard-to-find signature styles and classic everyday treasures that make perfect gifts for those wanting something truly unique.

Coco Chanel's famous quote: "Women are always overdressed but never with enough elegance" that today has even more of a profound meaning. Almost a century ago, Gabrielle Chanel astonished the world changing women's fashion forever. She promised ladies a never-seen-before combination of elegance and comfort; the freedom of "moving ones arms and walking quickly."

Grandchildren of this innovation, women of the third millennium yearn for what was once considered the masculine uniform including tweeds that were sculpted perfectly to the body resulting in the ultimate feminine silhouette. After decades of success, the Chanel jacket lives on today adapting itself to contemporary styles looking as good with a pair of jeans as with a formal skirt.

YOOX.COM's virtual voyage departs from the ballroom at The Ritz, Paris, 1930s when Coco reflected, "to dress women in black and white for a ball - you can see only them." These are her colors, simple and elegant. Gabrielle changed how women dressed, "before me, nobody had enough courage to dress in black". She continued, "black is so strong, so noble that when people see you it remains forever in their memory."

Gabrielle's intuitions were genius: why would women need to change for each appointment throughout the day? Tea, cocktails and dinner. A dress with two pieces must allow one to leave in the morning and remain in perfect attire even for an elegant meal. In 1930 just as it is in 2007. Tweed jackets and suits provide an eternal luxury while jersey (another one of her hallmark fabrics) allows complete freedom.

From the 1930s, Coco designed jewelry to accessorize cloths. Pearls of every measure, faux diamonds and gold toned metals combined in stunning designs; her costume jewelry was the perfect accompaniment for her couture creations. Of the pearls, she commented: "I just simply won't start working without all my pearls."

Gabrielle Chanel's favorite flower, the camellia, inspired her very first jewelry pieces and remains to be the symbol of her brand and a reoccurring theme throughout her creations. For her there were hundreds of ways to wear her favorite flower.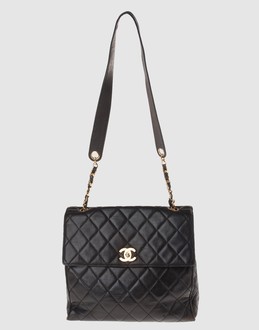 CHANEL Medium leather bag
$2,040. Production date: 1980s.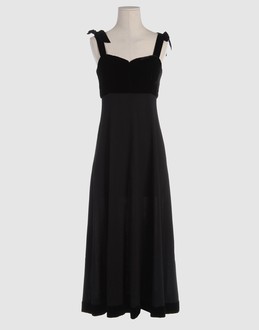 CHANEL BOUTIQUE BLACK LONG DRESS

$4,050. Production date: 1980s.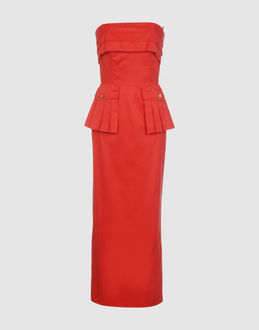 CHANEL BOUTIQUE RED LONG DRESS

$1,540. Production date: 1980s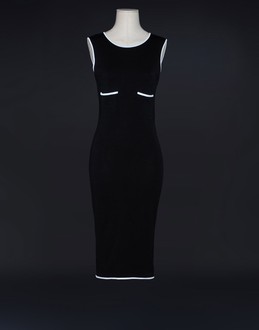 CHANEL LONG DRESS
$550.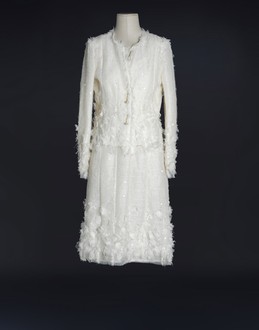 CHANEL SET
$4,380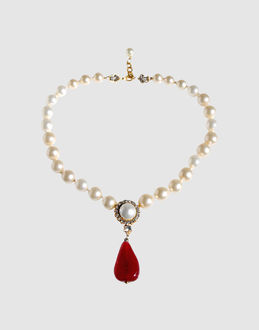 CHANEL NECKLACE
$1,170. Production date: 1980s.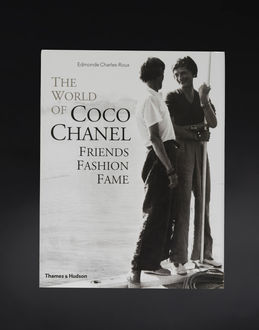 THE WORLD OF COCO CHANEL
$53